We have created two completely off-grid camps at Wanderlusts Nutwood HQ,  set in Cumbrias Eden Valley, a secret gem of tranquility, linking the Lake District National Park with the North Pennines "Area of Outstanding Natural Beauty".
In perfect isolation, the camps are just a 250m walk from the free roadside parking. Although when staying at either camp, youd have no idea the other was there, for larger groups, you may want to book both camps simultaneously, or to connect your dates with a Wanderlusts Horsedrawn Holiday
Nutwood Retreat offers a low-tech, car-free holiday. It is completely off grid and unreachable by most road vehicles.
Here we offer the opportunity to really get away from it all and submerse yourselves in nature….
The Blackthorn Camp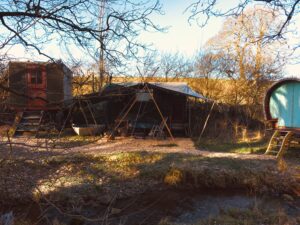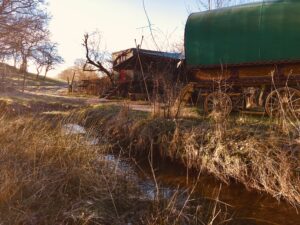 The Blackthorn Camp is completely off-grid and comprises of an old Billy Smarts Circus wagon, a traditional Gypsy caravan and a rustic sauna converted from the old mobile bank of Scotland, a covered fire pit all nestled in by the stream.The circus wagon is kitted out with a double bed and full size single bunk above, a gas hob and grill and a wood burning stove.
The "bowtop" Gypsy caravan has a double bed and wood stove too.
The sauna is also heated by a
wood burning stove.
There's a dry compost loo, but currently no shower.
There is a wood fired hottub available for hire too.
The Blackthorn Camp offers total seclusion with it's own pedestrian access off the green lane that runs by 
 just a 250m walk from the parking area.
The Bluebell Camp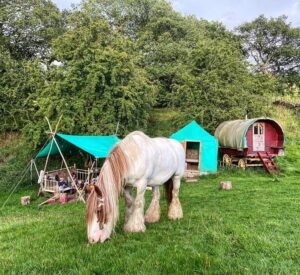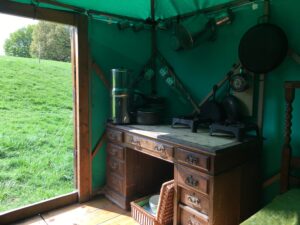 The Bluebell Camp is a completely off-grid Gypsy caravan retreat, comprising of two traditional bow top Gypsy caravans, a "cottage tent" kitchen, a covered fire pit, a dry compost toilet and the option of hiring our stream fed, wood fired hot tub!
To enable smaller groups or couples to stay without the cost of both wagons, the base price is for one wagon in which there is a raised double bed, a shorter "kids double" below and a small childs bunk, so can possibly sleep a family of five or six, the covered firepit which has a single bed for anyone wanting to sleep alfresco, the kitchen tent with a single bed and of course the compost loo.
There is the the option of renting an extra one or two wagons or  hiring The Blackthorn camp too.
The Hot Tub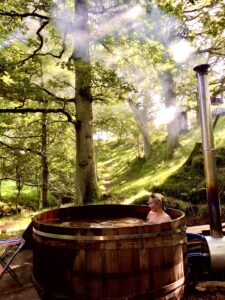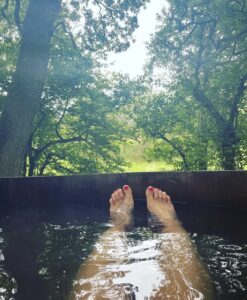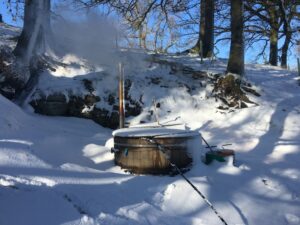 Set in a  small quarry, amongst the ancient oaks, alongside the stream from which it is fed.
There are no nyon lights or jacuzzi options, just hot water straight off the hills and the sounds of the stream and the breeze and birdsong in the trees. If you want to fully immerse yourself in nature, the stream fed, wood fired, rustic hottub is available for hire all year round on a nightly first come first served basis, so its best to book it asap.
A Wanderlusts Gypsy Caravan  Retreat provides the opportunity for utter relaxation and tranquility,—-It has been described as being "more like tramping than glamping"(in the most romantic sense of the word) but please do contact us before booking if you have any questions. —-
At both our camps, we've created self contained sites, so that if you really want to "get away from it all", there is no real need to leave, but if that's not your plan, there is 1km walk along a green lane that leads to Melmerby, where there is a village pub, The Sheapherds Inn which serves great food and drink, there's the Village bakery, tea room and boutique which also stocks some basic supplies. There is a toy shop, selling hand made wooden toys and there is also a swimming pool and sauna available for private hire.
We offer horse and cart day trips when available.
Contact us for more details info@wanderlusts.co.uk 07815439130
When inside a Gypsy caravan you will have everything you need to relax and for a gorgeous nights sleep.. you will be on natures' doorstep with your feet up by the woodburner. But the experience of the Gypsy Caravan starts before the threshold – they, like no other built with beauty in mind as much from the outside as within.. the Gypsy caravans will carry off any photo just by being in the background!
You will sleep in a double bed.. there is a bay window at the back giving both light and bringing the outside in.. there is a woodburner that will take the chill off any evenings; in fact you will find yourself opening the doors to allow some air to flow as sometimes it is a little too toasty!
The Caravans are fully insulated and there is plenty of storage. Each Wagon has its own BBQ/fire pit and rustic seating – making a lovely summer evening on holiday..