Gypsy Wagons In Situ at "Nutwood Retreat"
If you love the idea of staying in a gypsy caravan in some secret hidden glade or want a short retreat from the world, we can provide a traditional gypsy caravan in situ or either one of our private hideaway camps or delivered locally if you have a special place in mind.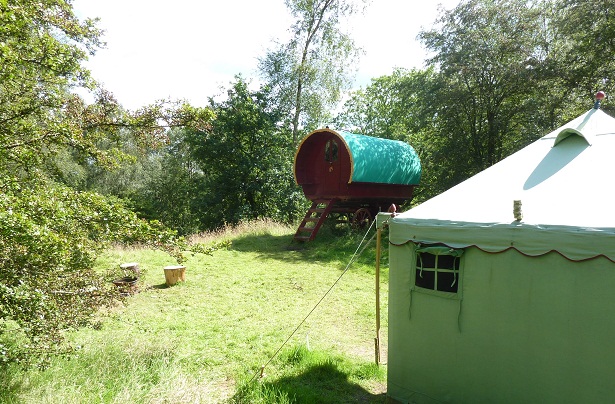 Gypsy Caravans and Cottage Tent
 2 gypsy caravans (each complete with its own cottage tent as a kitchen/day room).
When inside a Gypsy caravan you will have everything you need to relax and for a gorgeous nights sleep.. you will be on natures' doorstep with your feet up by the woodburner. But the experience of the Gypsy Caravan starts before the threshold – they, like no other built with beauty in mind as much from the outside as within.. the Gypsy caravans will carry off any photo just by being in the background!
You will sleep in a double bed.. there is a bay window at the back giving both light and bringing the outside in.. there is a small woodburner that will take the chill off any evenings; in fact you will find yourself opening the doors to allow some air to flow as sometimes it is a little too toasty!
The Caravans are fully insulated and there is plenty of storage. Each Wagon has its own BBQ/fire pit and rustic seating – making a lovely summer evening on holiday..
We appreciate that the Gypsy caravans are alone possibly a little small for doing everything in (albeit this is how a Romany family would have survived!) so with each Gypsy Caravan we are also providing a Cottage tent that will have a fully stocked kitchen, comfortable seating and a table and chairs..
Zingaro sleeps 2 Adults and 1 Child and is Pet Friendly
Roma Sleeps 2 Adults and upto 2 children under 10 year old